Global Human Ecodynamics Alliance
---
The Global Human Ecodynamics Alliance (GHEA) is an organization of social scientists, natural scientists, historians, educators, students, policy makers, and others interested in promoting cutting-edge research, education, and application of the socioecological dynamics of coupled human and natural systems across scales of space and time. GHEA membership is free and open for participation to anyone who registers and agrees to follow the GHEA rules. We currently have over 160 members.
Global Human Econdynamic Alliance Open Workshop 2013
November 4th-6th 2013 at the University of Maryland, College Park.
Dr. George Hambrecht, Anthropology Department, University of Maryland, College Park. 0111 Woods Hall, University of Maryland, College Park, Maryland, 20742. Email - ghambrecht@gmail.com. Skype - George Hambrecht.
You are cordially invited to the upcoming Global Human Ecodynamics Alliance 2013 Sustainability Science and Education meeting and workshop series held at University of Maryland, College Park from November 4th through November 6th 2013. It will be hosted by the University of Maryland Anthropology Department. This meeting is supported by the US National Science Foundation Arctic Social Sciences Program, the Nordic Network for Interdisciplinary Environmental Studies (NIES) and U Maryland
Vilnius Declaration
The Vilnius Declaration established the European Environmental Humanities Alliance, more details on this initiative are available here. Humans are the key factor in both creating and solving the challenges of global environmental change. The emerging field of the Environmental Humanities represents an under-utilized resource of knowledge, activity and practice that can and must be activated and integrated with the other sciences to guide a more humane transformation of environment and society. More details are available on their website and there is considerable overlap with the aims of the GHEA community.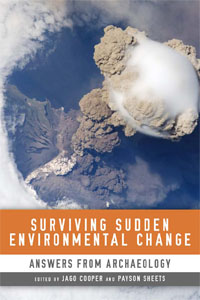 Cooper, J and Sheets, P. (eds) (2012) Surviving Sudden Environmental Change: Answers from Archaeology. University Press of Colorado, Boulder p256.
The University Press of Colorado have just published a new book on how the archaeological record can help us to understand how we can cope with sudden environmental change. This book arose out of the October 2009 meeting in Maine, which lead to the creation of GHEA and this is the first major publication from our group.
The editors, Jago Cooper and Payson Sheets, have brought together authors from a wide variety of backgrounds to contribute to this publication. It is available to buy for only $19.99, but it can be downloaded for free as a PDF from The University Press of Colorado
This will hopefully be the first of many collaborative publications from the GHEA community. Feel free to join GHEA here.


HERC Launch: The Human Ecodynamics Research Center (HERC) at the CUNY Graduate Center is coordinating the effort of scholars in a formal research collaborative addressing crucial issues of sustainability, resilience, and the future of humans on earth. HERC focuses on the past and present global interactions of humans and the natural world, using fields of inquiry and methods of investigation from anthropology, archaeology, sociology, geosciences, climatology, biological sciences, art, history, and political science.
The Working Groups section of the website is now available. GHEA members can create working groups and join groups that have already been created. Non-GHEA members can read the Working Group pages, public posts in the forums, but cannot contribute to the forums or view private posts.
GHEA sees the expansion, integration, and augmentation of cutting edge human ecodynamics basic research, education, and science-based policy as critical to the development of a more sustainable approach to human-environment engagement in the future. This research must include the integration of a temporal perspective in short medium and deep time scales. We believe that as a result of focused efforts, by 2020 society can be better equipped to utilize the results of this research for practical problem solving.
GHEA's mission is to facilitate the growth in effective human-ecodynamics research by:
bringing professional and student members of the GHEA community together to explore cutting edge questions of theory, method and case studies in Human Ecodynamics in the past and present
producing academic articles and books as well as popular texts and media synthesizing the results of these focused intellectual engagements
providing a forum for interdisciplinary community building and research collaborations
fostering the growth of the GHEA research community though student outreach and education
pursuing policy changes where GHEA science supports such engagement
GHEA exists to facilitate greater communication, collaboration, and engagement in human-ecodynamic research, education and policy by operating as a "bottom-up", community-driven entity. This web portal is set up to facilitate individual participation in GHEA. The effort will succeed only through the efforts of participants. Modeled after other successful, grass-roots movements, this web site has been created to allow users to define the directions and emphasis of GHEA identity, activities, and productivity.